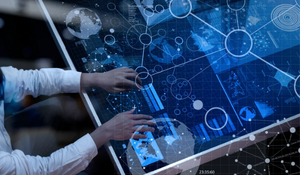 Threat Hunting with Digital Forensics and Zero Day Countermeasures
Stefan Pracht, SVP Product Marketing
The Project Manager Defensive Cyber Operations is hosting a "Cyber Talk"
with LogZilla and Axellio
The Intersection of Advanced Technologies for Real-Time Countermeasures
Speed of Indexing is the New Determinant of Success
Presenters:
Mr. Clayton Dukes, CEO and CTO, LogZilla Corporation: LogZilla.net
Mr. Hollis Beall, Director Technical Marketing, Axellio Inc.: Axellio.com
Watch the Recording
Overview
Whether on-prem, Government Cloud(s), or hybrid or multi-cloud deployments, Centralized Log Management (CLM) tools have traditionally been used as defensive platforms or used in postmortem forensic analysis. Nevertheless, a simple, easy to deploy minimal hardware footprint platform (rack-mounted or fly away kit) capable of combining log management (FCAPS) and network packet traffic using technologies like the Garrison Defensive Cyberspace Platform (GDP) version 3. Accomplished at market-defining speed, this enables true real-time responses and orchestration to unlock a new opportunity utilizing the Observe, Orient, Decide, Act (OODA) loop. This methodology enables the platform to function as both a traditional "defensive" tool and an offensive countermeasure platform. The speed and agility of log management using a Field-Programmable Gate Array (FPGA)-based, or other very high-performance ingest platform solutions at very high Input/Output Operations Per Second (IOPS) can demonstrate massive ingest of data while providing true cutting-edge data gathering and dissemination.

The video contains the discussion as well as the LogZilla product demo and was recorded during the public event on Thursday, April 1st, 2021.
Target Audience
This event is open to the public for those who are eager to enhance the effectiveness of the Department of Defense Information Network's (DODIN) cyberspace and cybersecurity infrastructure through critical research, experiments, development, testing, and the development of innovative technologies. The recommended audience is for: program managers, development teams; engineers, architects; security managers; security specialists; system administrators; and analysts who work in cyberspace defense.