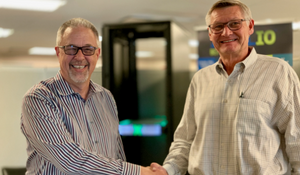 The New Axellio Inc.
Bill Miller, CEO
We announced today that we are separating our ISE Storage Arrays business from our Axellio FabricXpress™ Edge Computing and Hyperconverged Infrastructure solutions business and have reached a definitive agreement with Violin Systems to acquire the ISE Storage Array business. The rebranding of our company to Axellio Inc. is a culmination of a three-year journey to transform into a leader in the emerging market for Edge Computing and HCI platforms and solutions. This is an exciting step for both Axellio Inc. and Violin Systems.
Adding the ISE arrays to Violin's flash storage product lineup will immediately meet the needs of a greater variety of customers and provide the industry with a wide range of solutions spanning from terabytes to multiple petabytes with enterprise-class performance, features, and reliability.

Violin intends to integrate its own extreme performance technology with the price/-performance value to deliver transformational economics for organizations of any size. With the addition of an experienced storage engineering team, Violin will fully support the current installed base of more than 8,000 ISE arrays.

According to Mark Lewis, Chairman and CEO of Violin Systems, "This acquisition creates a substantial opportunity for Violin Systems to succeed in price-sensitive mid-markets where X-IO has excelled. Further down the road, we will assimilate X-IO's product strengths to keep shepherding customers into the ideal storage systems to meet their needs. Our global network of partners will also welcome the ISE arrays as a cost-effective alternative for common workloads like VDI and database acceleration."

Size matters in the competitive storage array market. So does having industry-leading talent and technology. Combining the ISE Storage Array business, talent, and technology with Violin creates a bigger company that is far more formidable flash array competitor. I am excited to join Violin's Board of Directors to help the combined company continue to succeed and grow.

Eighteen months ago, Axellio announced our FabricXpress converged systems architecture and its first instantiation in our solutions based on the FX1000 platform. Our customers are testing and deploying these solutions to solve problems with throughput, latency, capacity, space/power/cooling, and transportability in edge data capture, analytics, security, visualization, virtual and augmented reality, hybrid cloud implementations and other applications across finance, defense, aerospace, transportation, retail, manufacturing industries.

The rapidly growing and unique set of requirements for information infrastructure is often integrated with the cloud and cannot be reasonably or economically met with common server and storage architectures. This is where Axellio excels!

Team Axellio is thrilled to be embarking on this next phase of our journey with a laser focus on meeting the increasingly demanding requirements for edge computing and hyper-converged infrastructure platforms and solutions.