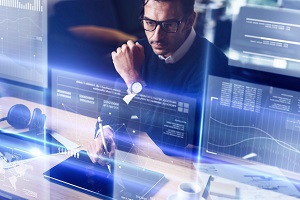 Streamline Threat Detection and Incident Response Through Packet Data
Stefan Pracht, SVP Product Marketing
Threat actors are continually improving the complexity of their cyber attacks, and many security teams are often not equipped to detect, analyze, and prevent those threats. Companies who adopt a castle mentality, where securing the ingress and egress of your network and end-devices is the primary approach to threat prevention, are left vulnerable to internal attacks and unprepared or under-informed about exactly how a threat actor entered the network and what actions were taken while there. Hackers are taking advantage of these cybersecurity weaknesses. Effective security teams need to be advancing with the complexity of threat attacks and improving threat detection, prevention, and pre- and post-event analysis to better inform your company's cyber security decisions.
Incomplete Threat Detection With Meta-Data
In today's cybersecurity industry, most companies over the years have focused their threat and incidents detection efforts by using meta-data records. Meta-data is the information collected from real-time analysis of traffic (i.e., NetFlow or IPFIX) as well as collection of logs, performance, and event data from network devices directly. It provides the summary of an event, and therefore can be more easily stored than the packets that capture the actual traffic data. In most cases, any potentially available packets containing additional detailed information of the events are discarded. This practice, while often less complex and less expensive, leaves many organizations working with data that is insufficient for incident response and threat prevention as it is missing the insight needed to better assess an event.
Threat Detection & Incident Response With Packets
Threat actors take advantage of the shortcomings of meta-data by hiding their activity within legitimate traffic or even modifying the meta-data content to hide their tracks. Hackers may even check for end-point protection before launching an attack and can even remove trace evidence by modifying logs and removing files from a victim's machine. This advanced threat behavior is difficult to detect and even more challenging to respond to when using only meta-data.
Network packets offer immutable evidence which is nearly impossible for hackers to delete or modify. Capturing and analyzing packet data allows for a more complete picture of an attack, enhancing an organization's threat detection, incident response, and threat prevention. Packet data can be used to establish the "blast radius" of an attack, with information about how threat actors entered your environment, what actions they took, and which devices were communicated with. The depth of data available through packets allows your team to provide reliable information about attack patterns across devices, hacker behavior, and the timing of all packets traversing your network.
Efficient Packet Capture Solutions
Traditional packet capture solutions are seen as too complex as they require massive storage and processing infrastructure while often limiting access to this rich information source. Axellio® created PacketXpress®, an economical approach to high-speed packet capture and deep packet inspection, to address this problem in the industry.
PacketXpress defends against zero-day threats with traffic monitoring and digital forensics, enabling your team with access to packet-level insights that keep up with networking speed and traffic growth. With a 70% smaller storage footprint as a 3U rackmount solution, packet data is more affordable than ever before. Click the button below to download the PacketXpress Solutions Brief, where you can find comprehensive information about the power of PacketXpress.