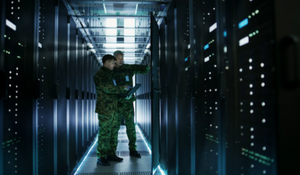 Hot Topics in Cybersecurity from the MilCyberSync Podcast April 3, 2022
Stefan Pracht, SVP Product Marketing
As the digital world becomes increasingly more connected, the risk of cyber-attacks increases. No one is immune from their personal information getting stolen. The annual costs incurred from the inherent and residual risks of cybersecurity are staggering for organizations. Not even America's largest government agency is immune from the risk of a cyber attack. The nation must remain vigilant in the war against cybercrime.
The Military Cyber Professionals Association (MCPA) was created to do just that. It comprises a community of active duty military members, Veterans, and others working in the cyber fields for the Department of Defense. Also included in its ranks are other government employees, contractors, academics, industry leaders, foreign allies, and private citizens. They are a 501 (c)(3) educational non-profit organization with chapters located strategically throughout the nation.
In their weekly MilCyberSync Podcast, issues concerning cyber security take center stage with hosts Navy Cryptologist, Nick Thomas and news anchor, Layla Gulen. Reporting on the latest events happening in the cyber world, the April 3rd episode covered a variety of news topics you won't want to miss.
Axellio is proud to sponsor the MilCyberSync podcast and the Military Cyber Professionals Association. We believe this podcast provides valuable content for cyber analysts and professionals interested in the cyber security landscape, and we wanted to give you a summary of the latest episode.
Check out the new Axellio video advertisement in this episode at (7:00)!
Cyber attacks against NATO countries are on the rise. (0:49)
China appears to be behind an exponential increase in cyber-attacks since Russia invaded Ukraine on February 24. Cyber attacks from Chinese IPS have also risen by 72% worldwide. The increase in attacks from Chinese servers is also significantly higher than the increase in cyber attacks overall since Russia's invasion began. The FBI announced it would be partnering with the private sector to combat foreign cyber- attacks against US entities.
Military Leaders discuss priorities for network modernization at last week's 2022 Satellite Industry Symposium in Washington DC. (5:42)
The program's executive officer for command control communications via Oracle says that they are focused on data multicast transport, agnostic capabilities, and security. The latter will play a heavy role in the data-centric environment and the Army's network of 2030.
The Senate confirmed the first woman to lead the Army's digital warfighting branch. (7:30)
Army Major General Maria Barrett was approved to be the next Chief of Army Cyber Command and become a Three-Star General. Barrett is responsible for the operation and defense of the services section of the Defense Department Information Network.
Australia is poised to support its cyber budget with a whopping 10 billion Australian dollars for cybersecurity over the next ten years.(9:01)
The program coined Red Spice is expected to help build the country's intelligence and defensive and offensive capabilities. This sizable investment in advanced artificial intelligence and machine learning will be used to detect cyber attacks earlier than currently possible.
Morgan Stanley Wealth Management Security Breach (17:35)
Recently, cyber-criminals broke into accounts using social engineering attacks. The voice-based phishing or vishing attacks included hackers impersonating the trusted financial firm during phone calls to customers, where they encouraged customers to reveal sensitive personal and financial information, including banking or login credentials.
For complete details and even more news on cybersecurity, listen to the complete episode of the MilCyberSync Podcast.